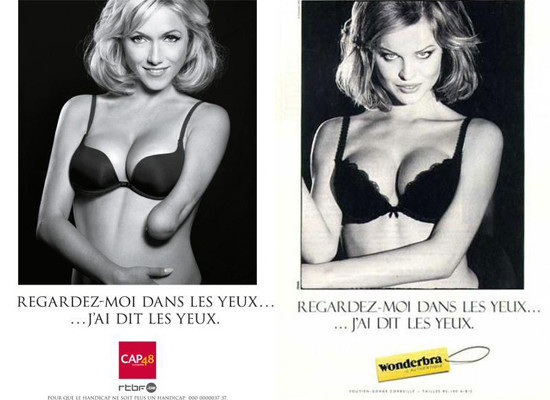 After disabled model Tanja Kiewitz got the courage to pose with her missing limb to recreate Eva Herzigova's infamous Wonderbra ad, she thanked her friends and "a couple of glasses of wine," according to Huffington Post. You might remember Herzigova: A voluptuous brunette wearing nothing but a black brassiere dares readers with the caption: "Look me in the eyes … I said the eyes." Likewise, readers can't keep their eyes off Kiewitz's arm, which ends at the elbow — but that's O.K. It's for a good cause, as she's working to raise money for Belgian disability awareness group CAP48.
In what the disability community has been saying all along, Kiewitz told GlobalPost in an interview that "it would be good if handicapped people started to be used to advertise other things." (Handicapped is a term commonly used in Europe). "Why shouldn't somebody with a disability be a model? It would make a change from those models who all look alike. Why don't we have more people in wheelchairs speaking on TV, they can speak as well as anybody else," she says.
Lots of opportunities come to mind, from models to actors to politicians. Today, Jonathan Phang, the host of Britain's Missing Top Model, began backing a campaign calling for the fashion industry to use disabled models on the catwalk and in ad campaigns. And earlier this year Debenhams, a famous U.K. department store, became the first retailer of its kind to use disabled models in campaign photography. Debenhams has just announced they are supporting the Disabled & Sexy fashion show, which will be held October 25 in London's Notting Hill.
"We need to look beyond stereotypes. Not only to encourage the fashion world to change their thinking, but to help raise a deeper understanding about the prejudices young, beautiful, disabled women have to overcome every day," Chang says.
The next industry that should pick up cues Is Hollywood. Fox's Glee has cast a singing and dancing wheelchair user who is not disabled. However, there are two actors with Down's syndrome on the show. Out of a total of 587 characters on television shows this season, only six roles have disabilities and only one role is played by a disabled actor, according to Hollywood Reporter. That actor is Robert David Hall, a double leg amputee, who plays a coroner on CSI: Crime Scene Investigation.
Hollywood says it's not always easy to find talented disabled people to fill their cast and crew. ABC, for instance, recently put out a Facebook casting call for a deaf actress and two male deaf actors for a new family series.
It's Hollywood's job to make art reflect life, but also for life to reflect art. Forrest Gump, I am Sam and Rain Man were all superb movies, played with aplomb by able-bodied actors. This is likely more a reflection of the business model of Hollywood; not wanting to risk a typically overblown movie budget on an unknown actor who has a disability.
In the consumer space, some companies have recognized the selling opportunity and are reworking their ads to include people with disabilities. Props to Milk-Bone for including a wheelchair user in a recent T.V. commercial, and for supporting service dogs for the disabled. Kudos, too, to Babies "R" Us, who is working with Autism Speaks on a collection of photographs titled "Faces of Autism" that are appearing on signs in stores and on a section of the Toys "R" Us Website.
For many years, ads and catalogs for Toys "R" Us have included children who are physically disabled. Consumers with physical disabilities, younger and older, have appeared in campaigns for advertisers like Cingular Wireless, Levi Strauss, Pepsi, McDonald's and Target.
Some artists are taking matters into their own hands. In May, photographer Holly Norris shot a spoof of the hip-and-skinny, teenaged American Apparel print ads with her friend Jes Sachse. Calling it American Able, the ads featured Jes, who has a rare genetic disorder called Freeman-Sheldon syndrome, in a series of poses that have been called "a searing satire of fashion photography."
Last year, American Airlines ran a campaign that honored the best local TV commercial featuring positive portrayals of the disabled. The winning spot — the Texas Lion's Club — won free air time during the airline's in-flight entertainment programming. After the dismissal of a disabled passenger by US Air this week, more airlines might want to look into this niche.
There are nearly 1 billion people globally with disabilities. Like or not, the message is getting clearer: Leave out the disabled and you'll leave money, and customers, on the table.
– By Suzanne Robitaille